5 Podcasts to Listen to Right Now
As much as I try to keep up to date on the popular business books and manuals out there, I always feel like I'm out of time, behind or just not engaged. Enter my love of podcasts. I can choose my time commitment and when I'm on the road, my travel bag is free of heavy books. Best of all, I can fully immerse myself in any given topic like marketing over the course of just a few days.
There are an enormous number of podcasts for marketers these days. From personal growth to brand strategy, it's easy to stumble upon several hundred in your search. Well have no fear, I've found the best ones for you. Here are my 5 favorite marketing podcasts on the web today for business-savvy listeners.
#1 – THE GROWTH SHOW
Driven to achieve growth for yourself, your company or your team? Then this one, as the title suggests, is for you. The Growth Show is the official podcast of Hubspot, and each week they interview someone who has achieved remarkable growth. From the ubiquitous story of Zappos' culture to fitness industry up-and-comer, ClassPass, this podcast covers stories of growth from all corners of the business world.
Click to subscribe to The Growth Show via iTunes.
Time for just one episode? Check out What Great Bosses Do Differently.
#2 – THIS IS YOUR LIFE WITH MICHAEL HYATT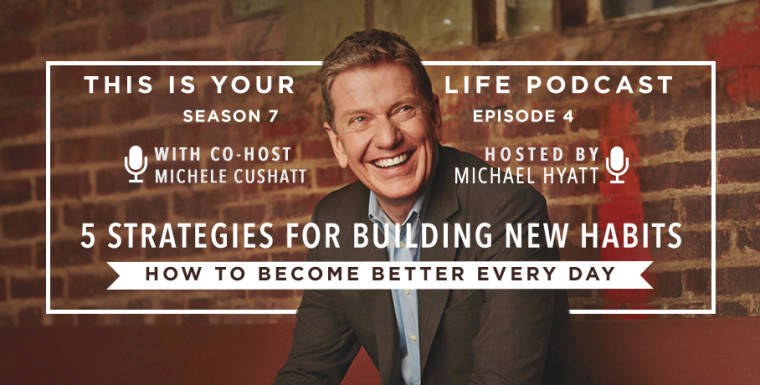 Michael Hyatt believes in the power of leadership and how it can help you live with more intention, work with greater focus and lead with extraordinary influence. At nearly 10 million downloads since its inception, Michael's no-nonsense approach to leadership is simple, practical and wise.
Click to subscribe to This is Your Life via iTunes.
Time for just one episode? Check out How to Lead Your Leader.
#3 – THE SCIENCE OF SUCCESS
Interested in life hacking, personal development and other methods for self-improvement? The Science of Success by Matt Bodnar and crew is just what the doctor ordered. Matt provides actionable advice in a scientific, yet fun way.
Click to subscribe to The Science of Success via iTunes. 
Time for just one episode? Check out How to Triple Your Rate of Success With One Simple Question.
#4 – THE ENGAGING BRAND
I like how The Engaging Brand with Anna Farmery speaks plainly (you won't find industry clichés here!) about her passion for leadership and the art of engagement. Listeners are taught to engage people on a personal and emotional level both for themselves and their brand, which is a crucial part of what we do as marketers.
Click to subscribe to The Engaging Brand via iTunes. 
Time for just one episode? Check out Why Your Strategy Needs a Strategy.
#5 – HBR IDEACAST
And last, but certainly not least, is HBR Ideacast by Harvard Business Review. I personally love this interview-style show that features some of the industry's most impactful leaders in business and management thinking. Plus, each episode is super short (around 15 minutes) which makes it a perfect companion for that quick run to the coffee station or those rare moments of down time in between meetings.
Click to subscribe to HBR Ideacast via iTunes. 
Time for just one episode? Check out Be a Superboss with Saturday Night Live's Lorne Michaels.
Podcasts are a fantastic way to catch up on industry trends and better yet, spend time each week with industry's most impactful leaders. We love them so much, this is the second article on the topic. The first focuses on innovative thinking. If you find yourself with a collection of podcasts you love, we recommend the Downcast app for iPhone, iPad and other Apple products. Downcast is essentially a podcast organization tool that allows you to manage and listen to your subscriptions in the most efficient, streamlined way.
Want more news from The Accelerator? Subscribe to The Accelerator by entering your email address in the box on the right-hand column of this page.
---
Emily May is a Senior Strategist at Seed Strategy where she specializes in navigating a diverse range of complex business challenges to achieve success. 
SaveSave
https://seedstrategy.com/wp-content/uploads/2016/03/Podcasts_Image-1.jpg
648
864
emay
/wp-content/uploads/2022/11/logo-3.png
emay
2016-03-15 13:40:10
2016-03-15 13:40:10
5 Podcasts to Listen to Right Now